Frequently asked questions
---
What file formats can be used?
We can use vector files of your logo or trophy artwork. Vector formats we can use are: PDF, DXF, AI, EPS, or DWG.
If you don't have a vector file we can use a photo instead. Suitable photo formats are: JPG, BMP, PNG, or TIFF.
Which photo should I choose to upload or send?

Minimum photo resolution of 1024 x 768, or preferably larger.
Entire item visible in the image, as close up as possible.
Avoid dark photos, photos with motion blur or excessive shadows.


The photo should be taken up close, and the entire item is in the shot.
Dark photos make it very difficult, if not impossible to see details, please make sure the photo is well lit, and the item is in a pose you're happy with, as it will be drawn directly from your photo.

Here's a sample logo. (We would prefer a photo much larger than the one shown here, this is just an example.)


---
What does the preview look like?
Here is an example preview made from the photo above. They are significantly larger than this when you receive them. Once you receive your preview, you can look over the design, check the spelling, and let us know if you have any changes.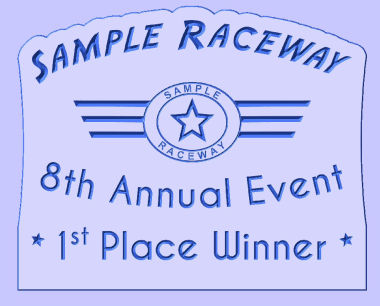 ---
What does the finished sign look like?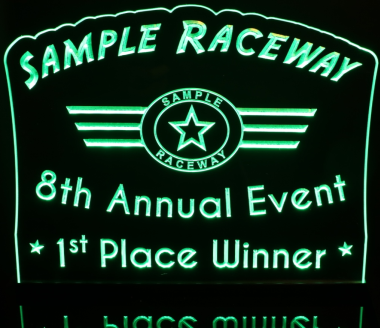 We have a variety of sizes and mounting styles available, as well as many colors, or color changing with remote control.

---
How long does it take?
You should receive your preview within 3 - 5 business days. The creation time after that is 3 business days or less for most standard signs. During the holidays, this time can be a bit longer, so be sure to place your order early if it's a gift.


---
Will it run on batteries?
External battery boxes are available for 11" and 21" signs.


---
How long will batteries last?
With a fresh set of Duracell batteries, they will last approximately 150-200 hours when using our red, blue, or green leds in an 11" sign. Our battery box is not recommended for use with our color changer.


---
Can I plug it in?
Yes. All of our lighting packages include an AC adapter.


---
Can I use my LED sign outside?
No. Lighted signs are not for outdoor use.
Signs in our Indoor / Outdoor category are suitable for outdoors.


---
Do you offer bulk discounts?
Yes. We can offer discounts on duplicate copies of the same design.
If you have one graphic or logo you'd like multiple copies of with different text on each sign, there is no charge to change the text, in most cases.
Prices vary depending on quantity, so please use our Custom sign quote form, or Contact Us, and let us know what you have in mind.


---
I have a question not answered here.
Click on Contact Us, we'll be glad to help!


---